RIP Nigel Honeybone aka Graham Garfield Barnard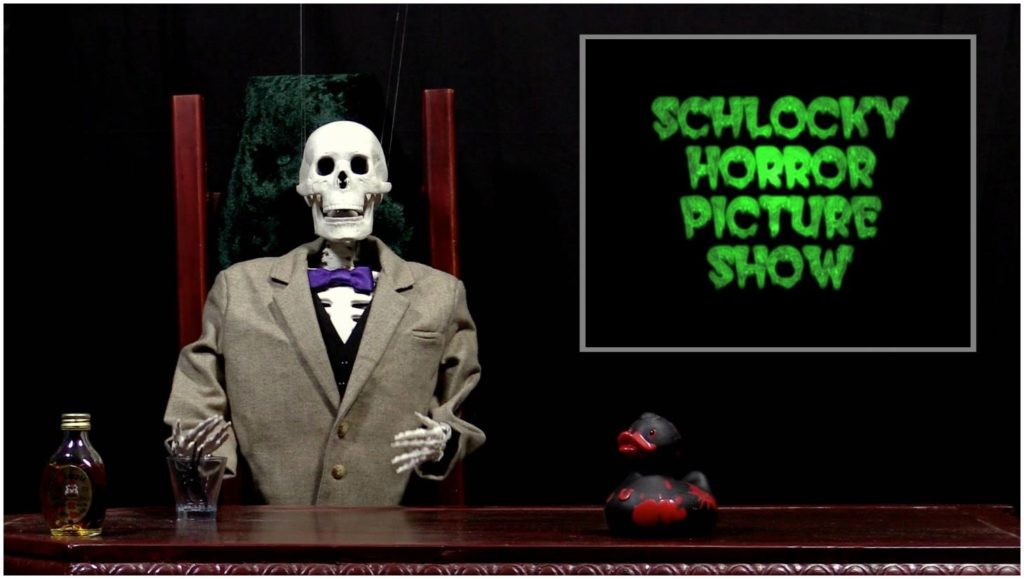 Horror fans, today (September 16, 2021), we lost one of our own. Nigel Honeybone was the host of The Schlocky Horror Picture Show which aired every Saturday night on Australia's Foxtel network, as well as internet streaming services in the U.S. Honeybone, was voiced and manipulated by his human, Graham Garfield Barnard.
For those of you not familiar with Honeybone, you may be curious as to the "voiced and manipulated" reference. Honeybone was not portrayed by a person but rather an actual skeleton. While I'm not really sure how one actually dies when they are a skeleton to begin with, it apparently has happened.
Barnard often described Honeybone as tall, skeletal and posh. Barnard's wit and delivery added to Honeybone's charm. Honeybone was never able to travel to horror conventions in the U.S. but he frequently appeared remotely.
I first met Honeybone back in 2010 when he appeared at the Horrorhound Weekend Vampira Tribute convention where I was resurrected as Vampira. That was also the weekend that the horror hosts broke Guiness and Ripley's Believe it or Not records for the most horror hosts appearing together at any time in history. Honeybone had to appear remotely rather than in person and he felt left out when his skeletal image was omitted from the official photo. (So sorry, Honeybone) 🙁 To make up for that terrible omission, here is a revised photo in Honeybone's honor: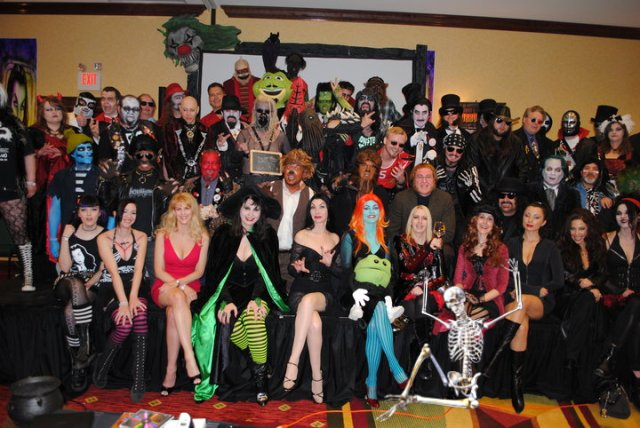 In truth, Barnard was kind, funny and his approach to horror was quite intellectual. Barnard loved researching horror films, their stars and those involved in production. Always posting as Nigel Honeybone, Barnard's movie reviews included a lot of factual information and little tidbits of hard-to-find trivia.
In 2013 Honeybone was recognized with "The Rondo Hatton Classic Horror Award"-"International Fan of the Year" and in 2019 Honeybone was inducted into "The Official Horror Host Hall of Fame."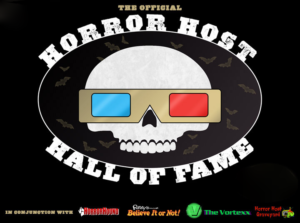 Honeybone was also a contributor to several horror news websites providing reviews for the B-movies he loved so much and produced short films under the name of Barnard's Star Productions.
Horror hosts are a dying breed and Nigel Honeybone, you will be missed. For those who don't know, we horror hosts are a close-knit group and we really do regard other hosts as family. We have a common bond of weirdness that many others do not understand.
RIP Nigel Honeybone and Graham Garfield Barnard.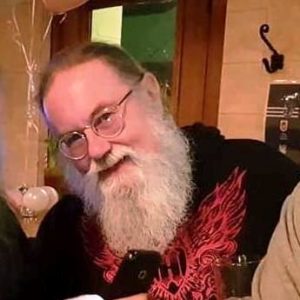 May you be gloriously happy in your cemetery for all time.
Love, Evelle