Night-Frights Classic Horror Movies with Evelle is a TV show hosted by Evelle LeChat. Night-Frights shows classic vintage horror movies and occasionally some newer movies by Charles Band and other independent filmmakers. The show began in 2007 and aired on cable TV in Arkansas, Oklahoma and Kansas for several years. When the parent TV company was sold, the show was cancelled. Night-Frights was then picked up by some other horror networks where it continues to be shown seasonally near Halloween.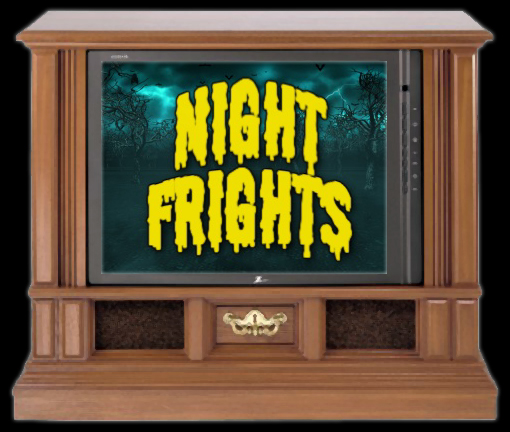 History
Night-Frights began when some television producers had the idea to bring classic horror back to Arkansas. There had never been a horror program produced in Arkansas and classic movies had not aired there for decades. The producers had a concept, but knew that without a host, the idea would not come to fruition. They put up a casting notice seeking just the right actor to fill the part. Oddly enough, they originally thought they would hire a blond, just to do something different from the traditional raven-haired horror hosts. They were also seeking someone upbeat and bubbly, also quite a stray from the traditional idea of a horror host.
The actors were told to prepare a review of The Brain that Wouldn't Die. The auditions progressed with the actors providing a brief recap of the movie. They were all "normal" looking and were wearing regular street attire. Some were wearing considerably less than others, going for the sexy titular approach. Then, one actor showed up. She walked in with hip-length jet black hair (not a wig), porcelain-white skin, and a dress Morticia would have envied. When she delivered her incredibly detailed review of the movie, complete with unpublished personal trivia about the actors, she did so with a bloody tray around her neck covering her shoulders, mimicking the effect of a severed head. Well, they weren't looking for a gothic vampiric host, but they instantly knew Evelle was exactly what the show needed.
Night-Frights Fan Base Grows
Night-Frights became an immediate hit. People were gathering in coffee shops dressed in gothic attire to watch the show together each Friday and Saturday night and the fan base grew quickly. Evelle had a live "fright line" where fans could call in during and after the show and this proved to be very popular.
Night-Frights Won Awards
Night-Frights won MIDI awards its first and second seasons for excellence in programming by the Mid-America Cable Telecommunications Association.
Night-Frights Fueled Other Horror Events
That same year Evelle teamed up with the producers of the Full Moon Horror convention to bring the very first horror convention and film festival to Arkansas. That event drew celebrities and attendees from all over the country including Elvira, Charles Band, Kane Hodder, Micheal Graves, Tony Todd, Jeffrey Coombs, Linda Blair, Ari Lehman, Enigma and many others. Coinciding with that event Evelle also graced the cover of Sync magazine and she officiated at an actual wedding marrying two zombies.
A few years later Evelle organized the first (and still the largest) zombie walk in Arkansas. Zombies invaded downtown Little Rock with all of the proceeds benefiting a local animal shelter. This event predated The Walking Dead and zombie walks were rare at that time.
Vampira Lives
Unbeknownst to Evelle, HorrorHound magazine and Dark Carnival filmmakers were conducting a nationwide search to find a Vampira look-alike following Maila Nurmi's death (1922-2008). HorrorHound had decided to pay tribute to Vampira and have a horror convention in her honor. Vampira was the first-ever horror host and the matriarch of the genre. Someone (identity still unknown) submitted a tape of Evelle to the producers and she was selected to be a semi-finalist to compete for the title of the New Vampira. The event was held in front of 8,000 contestants and Evelle took away the title. Following the competition, a resurrection ceremony took place with Evelle being "reborn" as Vampira. Evelle then became sought after as a Vampira look-alike at horror conventions across the country mimicking Vampira's famous blood-curdling scream and unusual walk. Evelle got to grace HorrorHound magazine and they even made a movie about it.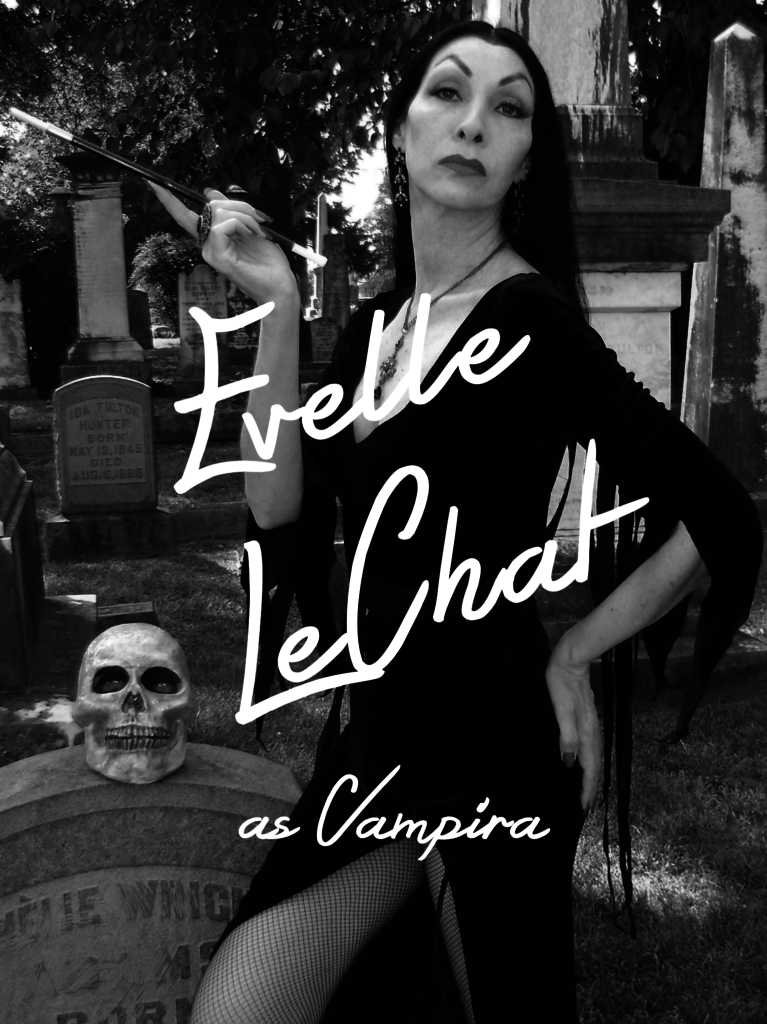 Evelle's Approach to Horror
People compare all female horror hosts to Elvira, but Evelle's approach to horror is much more similar to Vampira's than Elvira's. Evelle prefers creepy to campy. Evelle is also about as close to Morticia as a person can be (including tango dancing). Evelle didn't become interested in horror because of any of the female horror hosts. She fell in love with horror due to Bela Lugosi's portrayal of Dracula in 1931, which predates the female horror hosts by more than 20 years.
Evelle truly loves anything and everything associated with horror. She especially loves meeting like-minded horror fans.