How would you like to have Evelle appear at your event? Evelle is an extremely talented professional performer and she is always the star attraction at any event where she appears. Evelle will arrive in a hearse, and be carried into the event in a casket or coffin where she will then greet your guests. Slowly, methodically, with a cat-like elegance and grace, Evelle will emerge from her place of rest. Think they'll be blown away? Think people will be talking about your event and clamoring to buy a ticket for the next one?
Evelle is also a talented singer, dancer and she has a gothic cabaret act. Evelle will help any horror event to be a memorable success.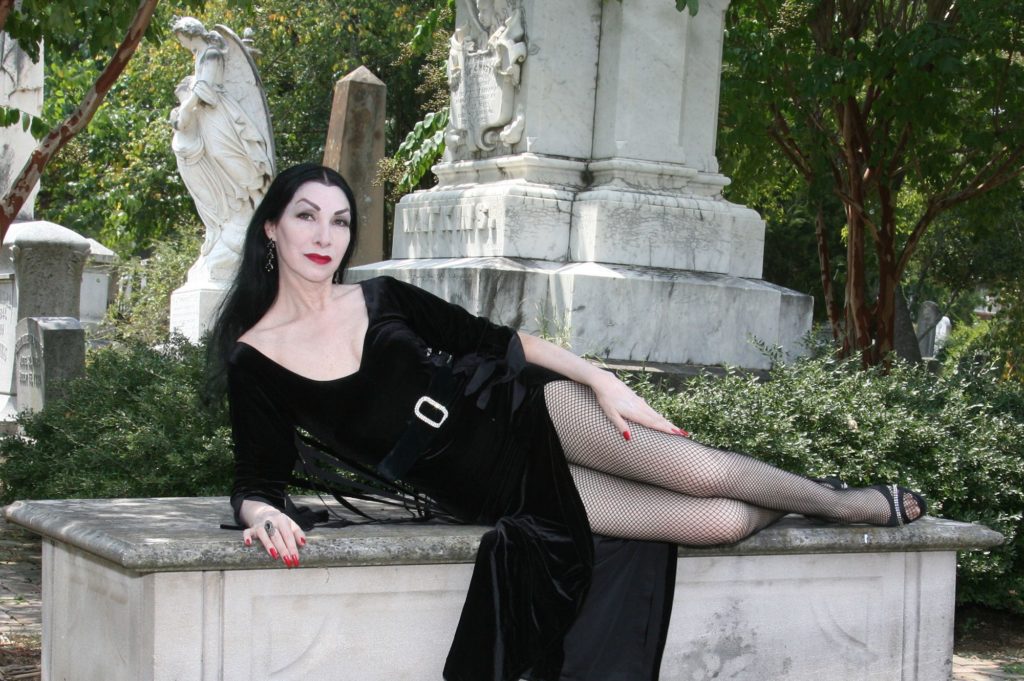 Unlike other horror actors, Evelle isn't pretending to be a gothic horror character; she is truly macabre and exudes the essence of a sensual vampire. If you take a look at Evelle's photos you'll notice she isn't wearing a wig or glued on fingernails or anything else false. If Morticia, Vampira or Lily were real and not made up characters, they'd be Evelle.
Evelle is known as the "Vixen of Vamp". Evelle has been the host of the TV show, Night-Frights Classic Horror Movies with Evelle, since 2007. After a nationwide search for the next Vampira following Maila Nurmi's death, Evelle was resurrected as the new Vampira.
Evelle is available for the following types of events:
Cabaret performance;
Cosplay judge or panel;
Event host;
Film appearance;
Gothic dance events (Evelle is a ballroom dancer.)
Haunted house openings;
Horror conventions;
Horror costume contest judge;
Horror panel speaker;
Scream queen events;
Vampira look-alike events;
Vampire balls;
Voiceover actress;
Zombie walk host.
Evelle is available for booking worldwide. Evelle is exclusively managed by L. A. Rose Entertainment. Please direct all requests for booking, interviews, press, etc. to them at info@LARoseEntertainment.com or by calling/texting 858-480-7673.